Honey
Our honey begins its journey from flowers near Saffron Walden, a medieval market town whose name relates to the saffron crocus that used to be abundant in the area. Because the honey is unblended, its taste will vary from jar to jar. We only cold filter our honey as soon as it has been extracted from it combs, where as bigger stores tend to blend and industrially process the honey. As such, there may be traces of foam on the surface but they won't affect the quality of our product. We are very proud of our high quality honey and hope you enjoy it.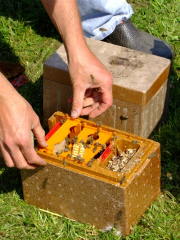 We offer set Spring Flower Honey from Chips Cottage and Audley End Organic Orchards, a clear Lime Tree Honey from Ugly Green and our very special strongly flavoured dark Sweet Chestnut Honey.
We continue to sell our honey in standard 1 lbs. jars, but we also supply family size quantities or gift containers in 140g units.
1 lbs jars available:
Set Spring Flower
Lime Tree Honey
Sweet Chestnut
Please contact us to place an order
Email: gerhard_uli@hotmail.com
Phone: 07990542128